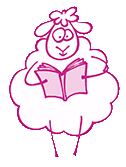 Our books are for complete beginners AND needle felting addicts looking for new ideas. They contain all you need to know, with fun step-by-step projects, lots of tips and helpful techniques.
How exciting. LOOK...our new book!




Available for pre-order
Publication: February 1st, 2019
It's fun, it's addictive, it's achievable. This complete course for the absolute beginner is packed full of useful tips and techniques to help you in your own felting adventures. More experienced needle felters may also love the family of adorable mini designs and characters we have created.
Learn how to sculpt small teacup worlds, animals, birds and even your friends and family. There are 12 exciting projects, starting with the easiest and progressing in difficulty from simple cookie cutter shapes to an armatured shabby sheep and a fine crafty fox .
​
We include loads of helpful tips and techniques
'Oooh look - you can make a forest mouse. Can I have a go? Can I....can I...?
Doubleday Book Club USA review
WHY WE LOVE THIS BOOK"
This is one of those books where, even if you never did the projects you'd still have a wonderful time looking at the adorable photos--each one is a fabulously detailed scene! But I can't imagine that you'd look at this book and not need to drop everything
and make a tiny teddy."
Anastasia, Doubleday Book Club, USA
H. Murphy's Amazon review:
Absolutely superb book! I got this and had never needle felted before but very quickly and easily made my first bear and can't wait to do more! Easy to understand instructions with step by step photographs so you can see what you are doing, so many ideas too once you have done your basic bear how to dress them and customise them. Cannot praise enough a great buy and a great hobby that is so cheap to start. Give it a try, but you will soon be addicted!

This Bear Buddy needle felting KIT contains all you need to create your own little bear.
You can buy our KIT and BEAR BOOK for a special price of £20.
ABOUT THE BOOK
We had great fun writing this book and creating all the little bears. The needle-felting techniques are explained clearly with step-by-step instructions and loads of close up photographs. You will learn about the materials you need, and every stage is covered, including the very important bit about how to give your bear its very own personality by using different wool colours, fibres and embellishments.
If you want to needle felt a teddy bear's picnic we show you how to make a charming little Baker Bear - and a whole batch of fluffy cakes, bread and woolly cookies!
​